CEO
Blackman Rakowitz Public Relations
Ms. Rakowitz is a highly respected, award-winning executive with more than 25 years experience in marketing, communications, public relations, promotions and product development. Working in a variety of industries, including accounting, law, television, radio, magazines, film, packaged goods, sports, hospitality, fashion, music and wellness, she enjoys continued growth and success throughout her career.
Known for her tenure as Division President for Playboy Enterprises, she ran international public relations, marketing, advertising, as well as the modeling agency for over 15 years. She worked on a daily basis with Playboy founder Hugh M. Hefner, heading up a 20-person department located in New York, Chicago and Los Angeles. She was accountable for leading all creative agencies in the US and worldwide. Most significantly, she broke new ground developing global partnerships and brand promotion in emerging economies. She formed a loyal following from multiple constituents abroad including governments, business leaders, and charitable organizations. When the walls of communism disintegrated, Rakowitz spent many years teaching capitalism to Poland, the Czech Republic, Russia, Romania and Hungary. She literally created the first "black tie" event in Poland, the first golf tournament in the Czech Republic, and the first "ribbon-cutting" in China. Additionally, she had to educate and win over the angry women's groups who held Playboy responsible for exploitation in Mexico, Romania, and Canada.
In addition to her work as a leading communications executive for companies like RKO General (now Gencorp) in New York and WWOR-TV, Rakowitz has been highly successful in planning and executing brand strategies for clients like Patron Tequila. Her campaigns created a high end, newly defined ultra-premium brand and had a significant impact on Patron tequila's sales, generating an increase of 75 percent.
She is an expert in all areas of corporate communications, including crisis management, internal communications, editorial consulting, public speaking and social media. As a premier media trainer, she has a unique ability to help her clients deal with the press during unanticipated crises.
She hosts Stars of PR, a live weekly radio program on Voice America Talk devoted to branding, public relations and marketing. According to PR News, the show "fills a void in the public relations business." She is also the editor of Trusted Advisor, the newsletter published by ProVisors professional networking group.
BR Public Relations
16000 Ventura Blvd, Suite 1000
Encino, California 91436
(818) 783-3307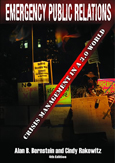 Buy Cindy's Book, Emergency Public Relations, Here: www.emergencypublicrelations.com
Join the EmergencyPR Discussion Here.
Listen To Cindy's Radio Show on VoiceAmerica.com 
Articles and Blog Posts By Cindy Rakowitz